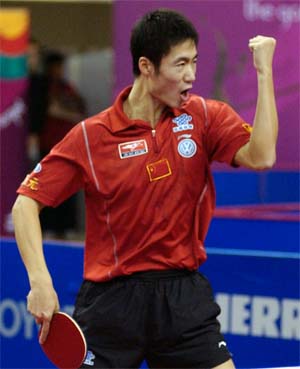 A. Reader wrote:
I appreciate your efforts very much. I play a much different long pips/inverted game. I used Hallmark Original now, but have used about every conceivable long pips available since returning to the game in 2001 after a decades long lay off. My best playing was inverted/anti twiddling and attacking with both sides back in the days of single color.
My real problem is not so much spin as speed. I can't seem to keep the ball really short against loop kills or smashes and sometimes not even against really hard drives.
John Hilton was my coach in the UK and his use of Long Pips is far different from mine. I have never had any direct input from someone who is an over the table player with the frictionless pips. I am somewhat limited in my mobility which is why I began to use them when I came back to the game.
Any suggestions would be appreciated.
Thanks, A. Reader
Greg replies:
Hello A.Reader,
Well, I don't use the frictionless pips either, but here are some thoughts anyway.
The best way to be able to put the ball short when attacked is to prevent opponents hitting the ball hard at you. You might want to check whether your return of serve, and general push/block placement are up to scratch. If you are consistently giving your opponent balls that are easily attacked with power, you will always struggle to keep the return short. Your returns generally need to be low and well placed to avoid power attacks.
Check your equipment – is your blade too fast, or the sponge thickness too thick? This will make it difficult to drop the ball short when attacked.
Check your technique – are you including too much forward movement when trying to drop the ball short? If the ball is going low but long, there is probably too much forward motion. If it is going high, your blade is probably too open. For a short, double-bounce return, soft hands and gentle grip are needed for the right touch.
Use some variation – don't be afraid to go deep with the return as well. Use angles to your advantage, and remember going cross-court will give you that little bit more table to work with.
Check your positioning – are you close to the table when trying to drop the ball short, or are you a step or two back? It's difficult enough trying to double bounce the return when the ball is taken deep in the court, let alone when you are a step or two back from the table.
Keep up the twiddling – it helps to keep opponents unsure of which side is used, which will also tend to slow down the pace they can hit the ball.
These are the suggestions I would make to anyone using the frictionless long pips close up to the table, even though I've not really used them myself (I have played against them a fair bit though!). Hope they help a bit.
Regards,
Greg Letts