Welcome to the sport of table tennis (or ping-pong, as it is known in recreational circles)! This Beginner's Guide to Table Tennis / Ping-Pong has been put together especially for you. I'll walk you through the fundamentals of table tennis, and help you improve your game as you move towards becoming an advanced ping-pong player. Along the way you'll learn how to make the most of your potential, and how to avoid making those mistakes that can slow down your progress.
Introduction to Table Tennis
Grip Types
Playing Styles
Equipment for Beginners
Rules / Laws
Spin – What You Need to Know
How to Play the Basic Strokes
Training
Competition Advice
Videos / Photo Gallery
Introduction to Table Tennis / Ping-Pong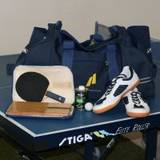 What's the point(!) of table tennis? Find out the answer to that question, and discover the origins of the sport. Learn how to stay injury free, and read some other light-hearted articles about ping-pong and the people who play it.
Objective of Table Tennis
A Brief History of Table Tennis
Why Play Table Tennis?
Ping-Pong or Table Tennis? Which is Correct?
Top 10 Things I Love About Ping-Pong
Top 10 Things I Hate About Ping-Pong
Everything I Need to Know, I Learned From Table Tennis
Common Myths About Table Tennis
Spectator Etiquette
Playing Levels – What Level Are You?
Table Tennis Things I Know Now That I Wish I Knew Then…
How to Become a Ping-Pong Champion
Table Tennis Safety – Avoiding Injuries
Instant Excuse Generator