In the beginning…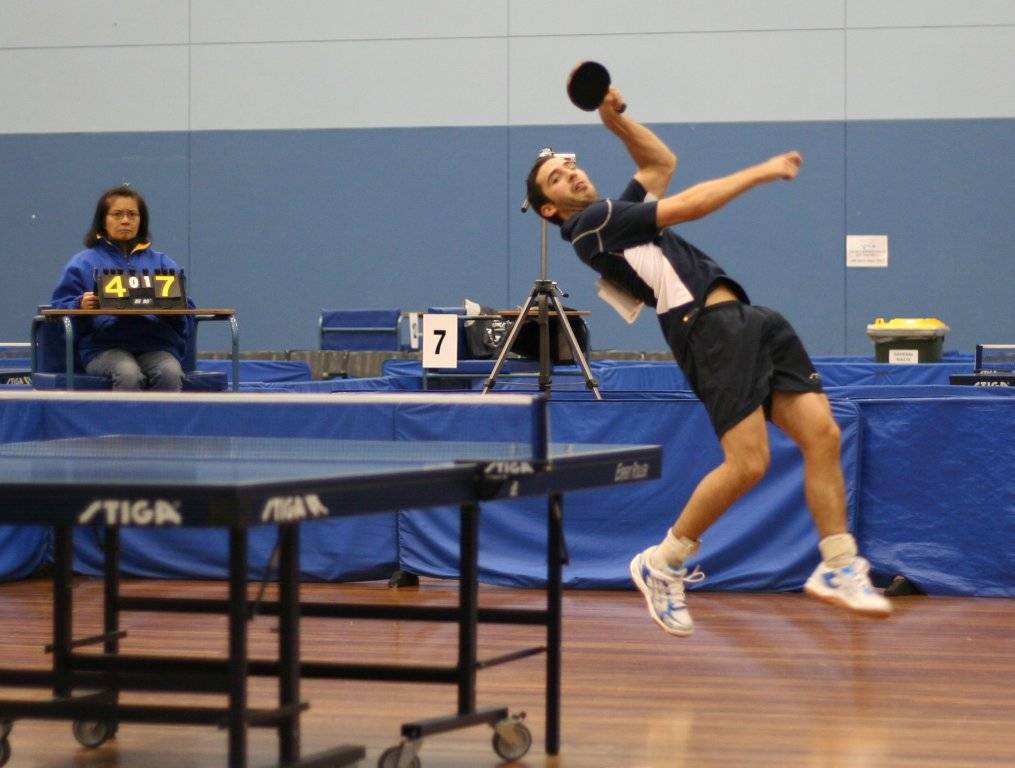 Welcome to the sport of table tennis (or ping-pong, as it is known in recreational circles)! As a new player, you are no doubt looking for some helpful advice to get you playing good table tennis as soon as possible, and to avoid making those mistakes that can slow down your progress. This Beginner's Guide to Table Tennis will help you get started on the right foot.
Basement and Family Ping-Pong Guide
Much of the advice you'll read on the Internet on how to play table tennis doesn't work if you have a plain old racket that doesn't grip the ball much. But there is absolutely no need to buy an expensive racket in order to play better table tennis and have a lot of fun! So if you want to play better ping-pong without changing your trusty old paddle, this guide will take you through the basics of basement play, and show you what can and cannot be done with an ordinary not-so-grippy ping-pong paddle.
Guide for Basement and Family Ping-Pong Players
Ping-Pong Equipment for Beginners
A couple of ping-pong paddles, a ball or two and a table tennis table and you're all set. Or are you?
Equipment Needed to Play Table Tennis
Ping-Pong vs Table Tennis
You say ping-pong, I say table tennis. Who is right? Does it really matter?
Ping-Pong or Table Tennis – Which is the Correct Name?
Objective of the Sport
Apart from having a lot of fun, the basic objective of the sport of ping-pong is to win matches made up of an odd number of games, by being the first to win 11 points in each game.
Objective of the Sport of Table Tennis/Ping-Pong
A Brief History of Table Tennis/Ping-Pong
From it's humble beginning as a Victorian England parlour game, through to the controversy of finger-spin serves, the heady days of ping-pong diplomacy, and the recent speed glue developments, the sport of table tennis has had an interesting and often checkered past. Learn a little more about the origins and development of the sport, right up to the latest important events.
An Illustrated History of the Sport of Table Tennis
Why Play Table Tennis?
You mean, other than the fact that ping-pong is a lot of fun and good for your health? If you need more convincing then that, I've got 10 top reasons why table tennis is the sport for you! Plus a number of other fun articles about the perks (and pet peeves) of ping-pong.
Ten Top Reasons Why Table Tennis is the Sport for You
Ten Things I Love Most About Table Tennis
My Pet Peeves About Ping-Pong
Everything I Need to Know, I Learned from Table Tennis
Table Tennis Instant Excuse Generator
Basic Concepts
OK, so now you are off and swinging, and no doubt having a great time battling it out with your friends and family. But before you develop any bad habits, start browsing my Basic Concepts section. With information on
The Magic of Spin
How to Play the Basic Strokes
How to Put Your Strokes Together
Important Rules for Beginners
How to Keep Score
Grip Types
Playing Styles
Training Guides
Matchplay Advice
and more,
you'll be sure to improve your table tennis as fast as possible!
Common Myths About Table Tennis/Ping-Pong
There are a number of myths and misconceptions out there about the sport of table tennis. I've listed the most common ones and given my take on each.
Common Myths About Table Tennis/Ping-Pong
Becoming an Advanced Player
Finally, once you have mastered the basics, you'll be ready to take the next step and work towards becoming an advanced player. I've got that covered for you as well, with a whole section devoted to advanced players.
Welcome to table tennis – may your stay be a long one!