First things first…
As a new player, there are many essentials that must be understood before you can become an accomplished ping-pong player. I have listed these basic concepts in one place here for your convenience, in order of which concepts you should deal with first.
Important Rules
The first of these essentials that are of interest to a beginner is the most important table tennis rules to learn. All the rules are important of course, but it can take a while to absorb every aspect of the laws of table tennis. To make things a little easier for you, I have highlighted what I consider to be the rules you simply must know to begin with. Consider it a crash course in the rules of table tennis. Don't forget to eventually come back and check all the laws of table tennis though!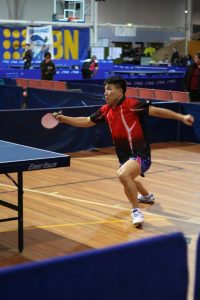 How to Score / How to Umpire
Once you have got a grasp of these rules, take a refresher course on how to score in ping-pong. The days of 5 serves each and games to 21 points are gone, now it is 2 serves apiece and games to 11 points. Make sure that you can score the modern way before starting to compete.
And now that you know the basic rules and how to score, get ready for when you are called to sit in the umpire's chair by browsing my article on how to be a better umpire.
Beginner Mistakes
There are certain errors that are repeated over and over again by new table tennis players. I've written down what the top 10 mistakes by beginners are and how to avoid them, so make sure that you don't get caught by any of these ping-pong pitfalls!
Grip Types
With these theoretical aspects out of the way, you will find it worthwhile to check out the many types of ping-pong grips that are available. Each grip has different advantages and disadvantages, and it is not that easy to change between grips, so taking some time to decide upon the right grip for you is always time well spent.
Table Tennis Styles
Following on from the grip types, an examination of the different playing styles that are used in modern table tennis is next. Although there is overlap between some styles, many styles are dependent upon the type of grip that you have chosen. Your own personal style is something you will develop over time, but it helps to know what possible styles you can develop using a particular grip.
Choose Your First Racket
Having decided upon a grip, and given a little thought to what type of style you may want to play in the future, you will need to choose your first table tennis bat. It's important to get the right type of ping-pong paddle to start with – using the wrong equipment to begin with can slow down your progress a lot.
Spin in Table Tennis
Next up is an in-depth discussion of spin in table tennis. More than anything else, the endless varieties of spin (and the sheer amount of spin) available to a ping-pong player is what sets this fascinating sport apart from all other racket sports. No player can progress from beginner to intermediate status without coming to grips with spin – how it works, how to use it, how to read it, how to apply it, and how to deal with your opponent's spin!
Basic Strokes
Once you start to understand about the importance of spin, you are ready to look at the basic strokes used in table tennis, and how to put them together to play good ping-pong. I'll be covering all the strokes than you need to know, and a couple that you don't need straight away but are fun to try!
Training
With all this information under your belt, it's time to get out on the table and do some training. Many beginners neglect this aspect of the sport, preferring to just play games at clubs instead, but if you are serious about improving then you'll need to train properly. Don't worry, I've got plenty of ideas and tips on areas such as beginning training, creating drills and footwork to help you make the most of your training time.
I've also got guides on How to Play Against Antispin and How to Play Against Long Pimples to help you learn to handle these 'funny' rubbers that some players use. Not to mention a Guide to Playing With Long Pimples and Guide to Playing with Antispin if you are one of those players! And finally, some advice on How to Play with Short Pimples for users of the vertically challenged pips.
Matchplay Advice
Finally, after you've done your training, you will want to get out and show everybody how much you've improved! I've got you covered there as well, with plenty of advice on how to play your best ping-pong in competition. And remember to check out my tips on playing better doubles if you are planning to partner up!