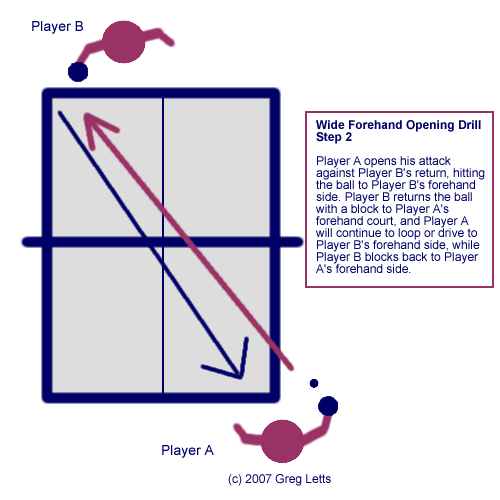 Variations
Some easy variations to this drill include:
Allow Player B to return his serve down the line as well as wide crosscourt, which will force Player A to wait until he can determine where Player B is placing his serve return.
Allow Player B to block to any location, which will force Player A to recover quickly after hitting his third ball attack.
Allow Player A to attack to any location, which will make Player B have to work harder on his blocking.
Allow both players to hit the ball to any location after the serve and serve return have been completed, which will force both players to work hard to take control of the rally.
Change the location of Player A's third ball attack to Player B's backhand, and have Player B block to Player A's forehand as usual. This gives Player A the chance to practice his opening attack and follow up down the line.
Same as the previous variation, but have Player B block the ball diagonally crosscourt towards Player A's backhand. Player A then plays backhand attacks to Player B's backhand block.
If the serve is too long, allow Player B to loop or drive his return to any location and the rally can be played out. This will highlight to Player A how often he is accidentally serving the ball long.