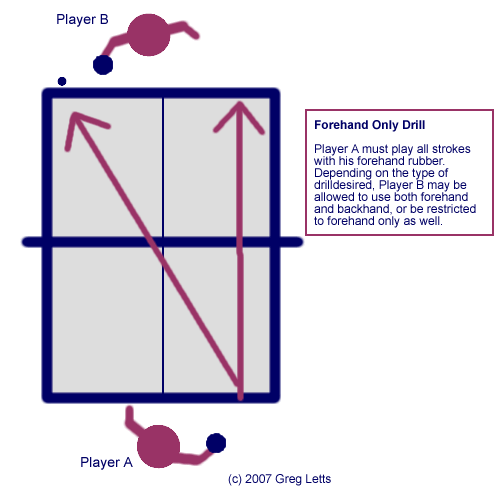 Restricting one or both players to only forehand (or backhand) strokes is a very simple drill, but it has some interesting consequences for training purposes.
Performing the Drill
Play one or more games to 11, but Player A is restricted to using his forehand rubber only, with no twiddling allowed. The idea is to force Player A to play only forehand strokes with good technique, so sneaky flipping of the wrist to use a Seemiller-type backhand is not permitted – even for Seemiller style players!
To start with, allow Player B to use both forehand and backhand strokes.
Benefits of the Drill
Player A will receive a number of benefits from this drill, including:
Player A will need to choose his serve carefully, in order to attempt to force Player B to return the ball to where Player A is expecting it. Careless serving will allow Player B to exploit Player A's backhand or wide forehand.
Good footwork is stressed, since Player A is being asked to cover the whole table with only his forehand side.
Player A will need to pay attention to his own positioning around the court during the rally, and attempt to place the ball so that he is not left vulnerable on his backhand side. This will force Player A to make quick decisions about where to place the ball according to his own court position.
Player A will be forced to play more aggressively, since he will need to finish the point as quickly as possible. Passive play will give Player B the chance to get the ball to Player A's backhand side sooner or later, and the point will be lost.
This drill will also highlight just how much fitness is required if a player wishes to be a one wing attacker that possesses a significantly weaker wing.
Player B will also find the drill beneficial in learning how to exploit the weaknesses of players who have a powerful forehand but a poor backhand.
Variations
The simplest variation to this drill is to force Player B to only play forehands as well, in which case both players will be under pressure. Other variations include allowing Player B to play forehands and backhands, but to a specific half of Player A's court, balancing the restrictions on both players.