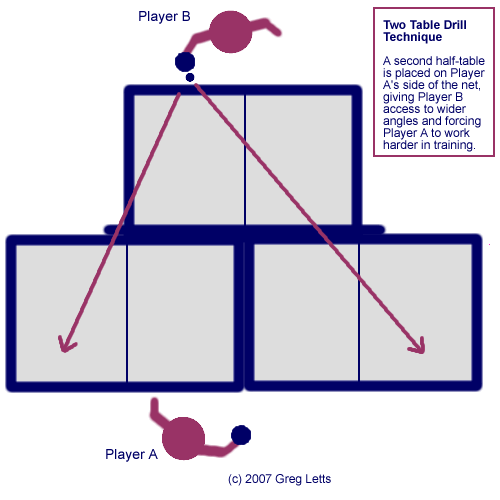 Implementing the Two Table Simple Drill Technique
By placing a second table half on Player A's side of the net, Player B has access to much greater angles than Player A, while Player A has to cover a lot more table area than Player B. There are a number of ways to use these factors to improve your training, including:
Player B can exploit the extra angles and table area to force Player A to improve his footwork and recovery skills. Player B will very often be able to put the ball out of easy reach of Player A in both directions (something that is not generally possible normally), forcing Player A to improve his recovery and anticipation.
The extra table area and angles allows Player B more options in ball placement, effectively increasing the playing strength of Player B. For example, in a normal drill if Player B moves Player A wide to his forehand, and Player A returns the ball to Player B's backhand court, it is difficult for Player B to force Player A much wider due to the narrowness of the table, unless Player B is an advanced player with good control and sidespin technique. But with two table halves side by side, Player B can move Player A out wide to his forehand as usual, and then move him even wider on the next stroke without difficulty, regardless of where Player A places the ball. In this manner, Player B is able to simulate a player who is technically much better than what Player B actually is, to the benefit of Player A.
The extra table half can be used in normal drills, allowing Player B to aim for targets that would normally be very close to the edge of the table. If his shot would have missed the table, the rally can now continue instead of having to stop.
It's not necessary to use the whole 4 quadrants of the two table halves. By adjusting the position of the two table halves a half-court to the left or right, it is possible to use 3 of the 4 quadrants instead, with the last quadrant which is to the far left or right remaining unused. This can be very useful if you wish to play practice matches with a stronger opponent against a much weaker opponent, since it evens the playing field to an extent.
Player A can benefit from the fact that is much easier for Player B to hit extreme angles, allowing more practice for Player A from positions that occur in matches, but which are hard to replicate consistently in practice on a normal table.