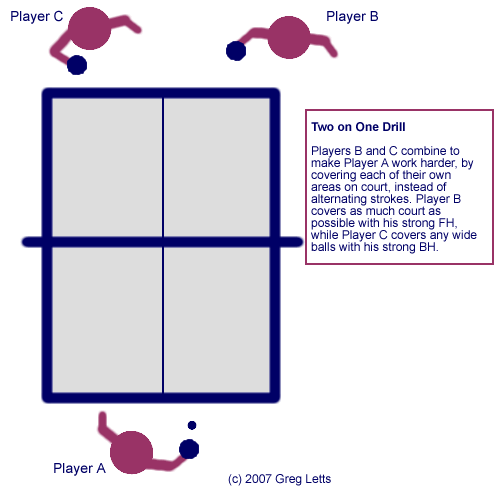 The use of two players to drill against a single player is more a drill technique than a simple drill by itself, but I think it deserves a page of its own to discuss how to make the most of this technique. This technique can be especially handy if you have a strong player and two weaker players training together, or even an extra player without a partner.
Performing the Drill
The idea behind this drill technique is to make Player A work harder than normal, by harnessing the advantages of having two players acting as one opponent. In order to make this effective, it is best if Player B has a strong forehand, and Player C has a strong backhand. Player B should be attempting to cover as much of his court as possible with his forehand, and should also cover a little of Player C's court if he is in good position to do so. Player C covers any wide balls to his court with his backhand, and can also cover a little of Player B's court if Player B is out of position, in order to keep the rally going.
If Player B and C work together well, they should combine to place a lot of pressure on Player A, since it should be difficult for Player A to find a gap in their court coverage. And since both players have less court to cover, they should be able to get into position more easily, allowing them to stay balanced and produce stronger strokes.
Benefits of the Drill
Player A will benefit from this drill technique, since he should be placed under more pressure, and any drills will be likely to last longer. When done properly, it is similar to Player A training against a higher level player.
Players B and C should focus on their technique and ball placement. Since they have less ground to cover, they should be able to move into position more easily, improving the quality of the strokes they can achieve.
Variations
This technique can be applied to many drills, and can also be used to play matches, where Players B and C combine to simulate a higher level player competing against Player A.