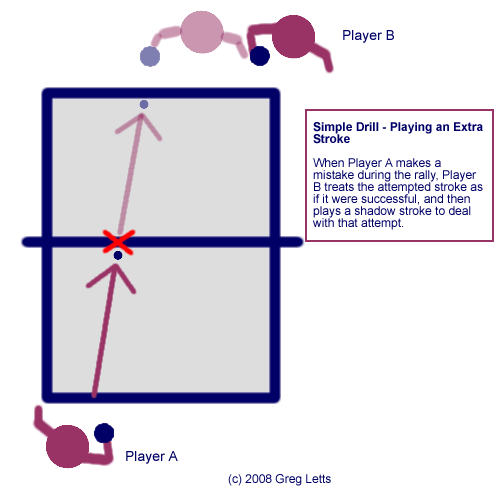 During training or a practice match, when your opponent makes a mistake, whether it be hitting the ball into the net, off the table, or missing it completely, don't stop. Instead, determine what type of shot he was attempting to play, then move and play a shadow stroke as if he had been successful in his attempt.
Benefits
You will learn to recover and keep playing the point after hitting a strong shot. No more standing still and watching after smashing the ball as your opponent barely puts the ball on the table, but you can't get back to reach it!
You will be mimicking playing against an opponent of a much higher standard than your opponent actually is, since you will have to move and play one more stroke in every rally. Even after your best shots, you will have to recover, move into position and play another shadow stroke.
You will discover just how vulnerable some of your favorite point winning strokes make you against better opponents, who are able to return these shots. You will become more aware when you can fully committ to an attack, and when you should moderate your attack and allow yourself time to get back into position to play the next ball.
Since the extra stroke is a shadow stroke, you should be able give your full attention to using good footwork and technique, as you don't have to actually hit the ball.
You will be working that little bit harder than normal, since you have added one extra stroke to each rally. This can only be of benefit to your match fitness, and you will be used to playing longer rallies than most of your opponents.