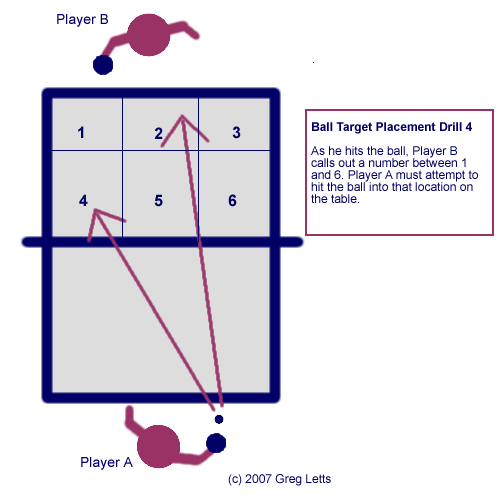 Mark Player B's court into 6 areas. Since it is very difficult to place the ball close to the net, the boxes that are marked out next to the endline should be smaller than the boxes close to the net. A number should then be allocated to each area, as shown in the diagram.
Performing the Drill
The simplest variation of this drill is for both players to use a basic stroke, such as the push or counterhit. Player B hits the ball to Player A's forehand, and as he hits the ball he calls out a number between 1 and 6. Player A must then attempt to place the ball in the location specified.
Benefits of the Drill
Benefits for Player A include:
Learning to place the ball according to an outside stimulus, rather than simply deciding the location at random. This ability to adjust the placement of the ball will be useful as Player A improves his ability to 'read' his opponent. Better players can judge the best location to place the ball depending on the opponent's body language, positioning, and skill set. A player who simply hits the ball to a random location without considering his opponent will struggle to beat better players.
Learning to adjust his stroke in different ways to place the ball in different areas of the table. For example, if Player A is counterhitting, he can place the ball in Area 3 by hitting the ball harder so that it goes past Area 6, or by topspinning the ball less so that it dips more slowly. He could also hit the ball slightly higher so that it travels further and lands in Area 3 instead of Area 6.
Player B can use intelligent choice of locations to teach Player A the best places to place the ball depending on the progress of the rally, and position of his opponent. For example, if Player A has placed the ball deep into Area 1, moving Player B wide to his forehand and backwards from the table, Player B may then call the number 6, so that Player A puts the ball in a very difficult location for Player B to reach. Or he could call the number 1 again, encouraging Player A to hit the ball straight back at him, hopefully aiming for his playing elbow.
Variations
Allow Player B to place the ball to any location.
Have Player B serve, and thus force Player A to return the ball to where Player B is expecting it. This will highlight how a strong server has an advantage, since he can often force his opponent to return the ball where he is expecting it.
Play as a normal rally, with all strokes allowed.