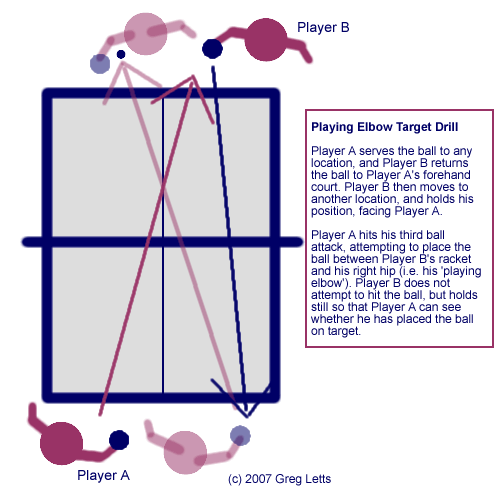 Performing the Drill
The idea behind this drill is to allow a player to find out how well he is able to direct his third ball attacks to a moving location – in this case, his opponent's playing elbow.
Player A can serve the ball to any location, and Player B should then return the ball to Player A's forehand court (preferably either high enough or long enough for Player A to attack). Player B should then move to another location of his choice, and wait in this position, while facing square on to the location where Player A will play the ball from.
Player A should then play his third ball attack, and attempt to place the ball so that it travels between the space between Player B's racket and his right hip (i.e. his playing elbow). Player B should not attempt to hit the ball, but should hold still so that Player A can see whether he has managed to successfully target the ball.
Benefits of the Drill
This drill is mainly of benefit to Player A, since he will receive practice at:
Serving to any location.
Performing a successful third ball attack with his forehand.
Learning to keep track of his opponent's movement around the court, so that Player A can aim at his opponent's playing elbow successfully.
Player B can still practice his serve return, however.
Being able to place the ball consistently to an opponent's playing elbow is a skill that is useful at any level of the game. At lower levels it may result in outright points due to an opponent's mistakes in dealing with such an awkwardly placed ball. At higher levels it makes it harder for an opponent to attack or counterattack such a ball, which is important for retaining control of the point.
Variations
Allow Player B to return to any location, forcing Player A to play both forehand and backhand third ball attacks.
Allow Player B to return the ball short enough to stop Player A looping or driving, if he can. In this case Player A should push or flick the ball towards Player B's playing elbow, in order to practice making it hard for Player B to start his attack.
If Player B returns the ball short, allow Player A to try to return the ball short as well if he wants to. Now the first player to successfully attack the ball should aim at the playing elbow of his opponent, who should in turn stand still to allow the attacker to see whether he has placed the ball on target.