This is an affectionate spoof of the excellent article "So You Want To Fight: Deciding if You are Ready for MMA Competition", which originally appeared on the About.com Martial Arts site, but has since been removed since the site changed Guides. As with much humor, there's a grain or two of truth in there as well.
I get these emails every day. People of all ages – and I mean all ages, including guys over 60, email me and ask "How can I get to play at the Nationals?"
Well guys and gals, the first thing that you've got to know is that the table tennis players on TV make it look easy – too easy. Even when getting beaten down, the loser of a professional table tennis match still manages to look good and get in a few big winners to please the crowd. They don't suffer the humiliation of moving one way and watching the ball go in the other direction, or hitting the same looking serve into the bottom of the net, and then off the end of the table, or coming off the court covering in ringworm-like bruises from their opponent's smashes. That's what you are letting yourself in for when you climb on the court with the elite of ping-pong.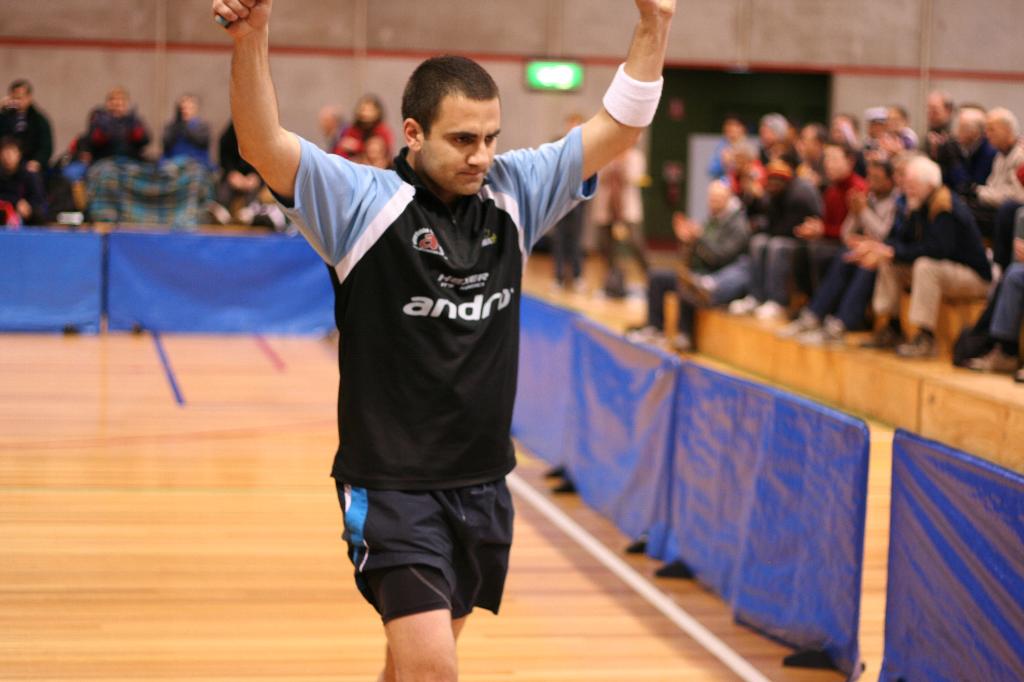 Still think you're bulletproof and ready to walk on the court? We'll see. If you can answer these questions without a doubt and with 100% complete confidence then you might just be able to walk instead of stagger off the court after your table tennis match. If you can't answer yes to these questions, then stop right here, keep training at your local ping-pong club and be happy you are watching the world champions on YouTube.
Cardio. Can you skip rope for 20 minutes straight without breathing heavy? (No, I can't either!)
If not, don't step through those barriers. Cardio is the number 5 reason why garage ping-pong players get whipped at serious table tennis competitions. The other top 4 reasons include technique, training, equipment, and tactics.
Do you think you're a great table tennis player because you've beaten everybody in your family?
Remember that your family have an incentive to let you win, just so they don't have to listen to you whine and put up with your sulking. Slap down a $50 on the table next time you play your mom, and you'll see who the man really is!
"I may only play at one club, but I'm king of that club"
I love this statement. So what you are saying is that you play against the same guys week in and week out, year after year. You can probably play them blindfolded by now. You're a big fish in a small puddle of glue. If you're a looper, have you been to a frictionless long pips club? If you're a push/blocker, have you trained against boosters? Remember that a true table tennis player can take on all styles and adjust his game to give a good account of himself. He doesn't avoid junk rubbers or booster, and he doesn't whinge about other players' equipment. Have you got 10 years of experience, or 1 year of experience 10 times over?
"I've been training for years, I'm well versed in attack and defense and I play against the best players around, regardless of what club they belong to. Am I ready now?
Possibly. Have you ever worked so hard that your sweat makes the table look like it has been rained on? Can you avoid getting choked in the final game? Can you counter the junk rubber and survive the speed glue? And lastly, are you smart enough to know when it's time to take a time-out?
If you know the right answer at the right time then you may have a shot. Now that you're ready, you need to look for a table tennis tournament to test your skills against the best of the rest. And if you do come up short, at least you won't end up flat on your back looking up at the ceiling and wondering what happened like the losers of matches in the UFC!