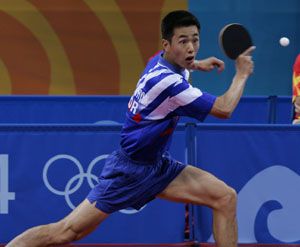 Strokes Used
The modern defender uses backspin as an attacking weapon, to set up his attacks. The typical modern defender uses a shakehand grip, and chops with heavy backspin on the backhand side. On the forehand side, this player will chop the ball when his opponent makes a strong attack, but will counterattack any weak topspins or loose pushes by his opponent.
Distance from the Table
The distance from the table for this playing style will vary. When on the defensive or counterattacking, the player will be anywhere from 8 feet or more behind the table. When attacking from his own serve, the player will stay within 3-5 feet of the table unless forced away by a good counterattack from his opponent.
Typical Equipment
The world class modern defender use inverted rubber on the forehand side, in around a 1.9mm thickness sponge, with booster or speed glue. On the backhand, long pimples with thin sponge are typically used, although short pimples and antispin are seen occasionally. The blade is an offensive blade, although not as fast as those used by the loopers or hitters, since some extra control is needed when chopping. Lower level players use thinner sponge on the forehand (1.0 – 1.5mm) for better control.
Popularity
This style is uncommon in high level play, but players of this style have had some good results, including a runner-up position by Joo Se Hyuk of Korea at the 2003 World Championships. It is slightly more common in lower level play, but by no means frequent.