Training With a Table Tennis Terminator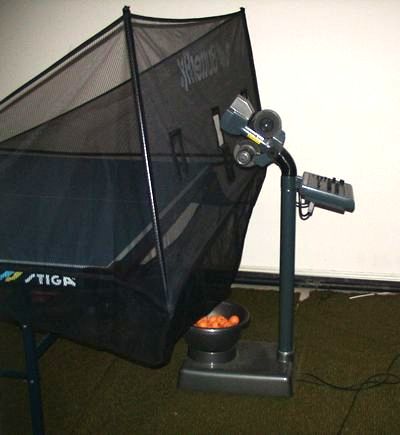 When training by yourself, the use of a table tennis robot can be of great benefit, provided that you use it properly and avoid a couple of pitfalls waiting to trap the unwary. So let's take a look at how to get the most out of your table tennis robot.
Robots are great at putting the ball into the same location over and over again. This makes them ideal for practicing your technique or learning new strokes, since you can rely on the ball being returned to the same spot, and you can focus on getting your stroke right. The best human partner is not as reliable as your typical robot. Plus you get the benefit of the fact that the robot will still put another ball on the right spot, even if you make a mistake and miss the ball or mis-hit the ball off the table, which is something a human partner can't do!
Be careful when mastering a new skill or stroke on a robot. Because you can hit so many balls in a session on a robot, it is very easy to groove in incorrect technique if you are not performing the stroke properly. So make sure you are using good technique on each stroke.
If you are time-poor, a robot can allow you to make the most efficient use of the time you do have. A 30 minute session on a robot can provide aerobic exercise at the same time that you are honing your table tennis skills. You can improve technique, footwork and fitness – what more could you ask for?
For those of you out there with established technique, a robot can also provide better pressure training than the average training partner. Excepting those players who are trained at feeding multiball, a robot can feed faster and more accurately than an opponent. This allows you to play at rallying speeds in excess of normal table tennis rallies – providing valuable overload training.
Robots do not have the same visual cues that you will get from an opponent. This can be weakness in that you will not be able to practice reading an opponents body language during a rally. Rather than worrying too much about this, use the lack of visual help as a strength, in that you can sharpen up your reflexes instead, since you will not be able to predict where the ball is going as easily. This can help to increase the pressure during your training sessions.
If possible, change the angle from which your robot stands from time to time. Most owner set up their robots in the middle of the other endline and leave them there. Shift the robot around the endline a bit, to take advantage of different angles coming at you. It makes things more interesting and will keep you on your toes too.
Since robots can feed you a lot of balls in a short time, it is very easy to overdo things and wind up injured. So make sure that you don't spend too much time on any one stroke. Start with a maximum of 3 or 4 minutes per stroke, and slowly build up from there (say a maximum of 1 minute extra per stroke per week). This will give your body time to adjust to the rigors of robot training without injury.
When using the robot for a static drill (where the ball is in the same place every time), don't neglect your footwork. It's very easy to get lazy and stand still, using only your upper body. Make sure you are using correct footwork, bending your knees and turning your waist as well.
Robots are great for practicing your own serve, since you can set the robot to slowly feed you a new ball which you can catch and serve yourself. The nets of the robot will then catch your serve and recycle the ball.
Robots are also terrific for practicing your return of serve technique. With a robot you can set up a particular type of serve, and the robot will repeat it over and over again until you find a return that works. Not too many humans have the skills or patience to do that for you.
Finally, here are a few points that I have selected from Larry Thoman's excellent resource, the Robo-Pong Training Manual.
Use the robot to develop new skills, and don't use the oscillator until your stroke is consistent.
Use the accuracy of the robot to practice return net balls, or returning double bounce serves.
Practice both softer and harder versions of your strokes.
Use small increases in ball speed and frequency instead of big changes.
Keep a training log of your favorite settings on the robot, as well as any notes on what you learned during a session, or did well or poorly that day.
Do some serving practice every training session.
Even on drills to one point on the table only, make sure that you recover to a neutral ready position.
Use different colored balls to improve your decision making and execution under pressure. For instance, you might decide to loop yellow balls, block white balls, smash orange balls, and chop balls with black marker on them.
I'd like to thank Larry Thoman from Newgy.com, who kindly offered and provided at his own expense a DVD showing a Newgy training course for coaches, showing them how to incorporate robots into their training. With presenters such as Sean O'Neill, Christian Lillieroos, Barney Reed Sr and Larry Thoman himself, it was a great help in producing this article. Larry has also a written a Robo-Pong Training Manual which is available for free download or hard copy purchase. You could also try Newgy's Contact Us form if you wish to make enquiries about purchasing a copy of the DVD.
 

Interested in Purchasing a Newgy Table Tennis Robot?

 Buy Online

 Interested in Purchasing a Table Tennis Robot?

 Buy Online