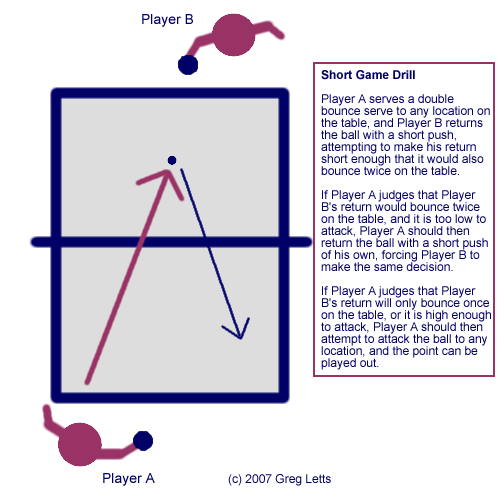 This drill is simple to perform, but it works well for any players who want to improve their short game quickly.
Performing the Drill
As mentioned in the diagram, one player should serve a double bounce serve, and the other player should then try to return the ball so that it would bounce twice on the server's side of the table. If the ball is returned too high or too long, the other player should attack the ball, and the point should be played out.
Benefits of the Drill
This a simple drill, but it's not at all easy to perform. When your opponent is varying his spin and placement, it is actually very difficult to push the ball so that it would bounce twice on his side of the table. It is also very easy to get sucked into the rhythm of pushing short, and to miss opportunities to attack loose pushes.
But when this drill is performed with concentration, it is a great way to learn how to shut down an opponent's power attack, forcing him to flick the ball instead of using a loop to start his attacking sequence, and providing great opportunities to counterattack off the less powerful flick.
Top players often control lower level players by dominating the short game, preventing their opponents from opening up while attacking loose balls themselves. Those players who wish to move to higher levels of the game should make this drill part of their training routine on a consistent basis.