Making Your Mark With Mark V?
Player Level and Style
Shakehander with inverted both sides – 2000+ USATT level. Used on a Butterfly Timo Boll Spirit blade.
Rubber Reviewed
Yasaka Mark V inverted rubber, Red/Black, with 2.0mm sponge.
Summary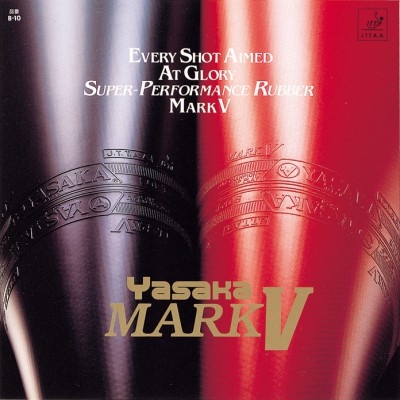 Mark V is considered a classic rubber, and for good reason. It provides a blend of speed, spin and control across all gears (slow to fast play) that is hard to beat.
Who Will Like It
Mark V is an excellent rubber for the attacking player who wants speed and spin, but not at the expense of losing control of the ball. In thinner sponges (1.5mm or less), it is also a possibility worth exploring for the mainly defensive player who likes to counterattack with power.
Who Will Hate It
Players who are looking for lightning fast speed and who are not overly concerned with control, and players who want extreme control and are not worried about speed.
Marketing Claim
Super-power players recommend this superior rubber for thrust, speed and devastating spins. Yasaka's experience and expertise have created many champions in the past. Join those winners in the spotlight of glory with the Yasaka Mark V.
Specifications
I've never been a stats junkie, so I'll stick to my general thoughts. I find Mark V to be a reasonably high throw rubber, with a fairly grippy (but not tacky) topsheet, on firm sponge. Good for producing mechanical spin (spin coming from the ball sinking into the sponge rather than sticking to the topsheet), and it works well when speed gluing or boosting. It's also of fairly average weight – typical for a Japanese-type rubber.
Playing Impressions
I used Mark V both with speed glue (in my attacking days) and without speed glue (on my coaching racket), so I'm pretty familiar with Mark V in both cases. Without speed glue, Mark V provides good control on all strokes, with enough zip for hitting winners. I found it had good touch in the short game, with a nice linear feel – Mark V responds with power in proportion to the effort you put into the stroke, so you always know what to expect. I also know a couple of very good defenders who have used it with 1.5mm sponge to chop with, so it is versatile enough to be a defensive option as well.
When speed glued, it retains most of its control in the short game, but adds another level of speed and spin, making it capable of lifting pushes for putaways without problems, and looping and relooping with both power and control. It can be a little touchy when blocking with speed glue, but no more so than any other rubber out there.
Overall
As you can tell from this review, I'm a big fan of Mark V. In 1.5-2.0mm sponge thickness, I think it's a great choice for any player who is looking to transition from a cheap paddle to his first serious racket, and it's also a good pick for any aggressive player who doesn't need the blazing fast speed of something like Butterfly Tenergy 05. It can pretty much do it all on the table, and will allow a developing player to build his game without the rubber imposing it's own quirks on the player. It also responds nicely to speed glue, since it still feels pretty much the same, just a little faster and spinnier. Only the small percentage of players who require a super fast rubber, or a very slow rubber with maximum control, should look elsewhere.
| | |
| --- | --- |
| Interested in Purchasing Yasaka Mark V Rubber? |  Buy Online |