Learn all about the serve in table tennis for beginners. Includes photos and theoretical and practical advice on what makes a good serve and how to practice serving.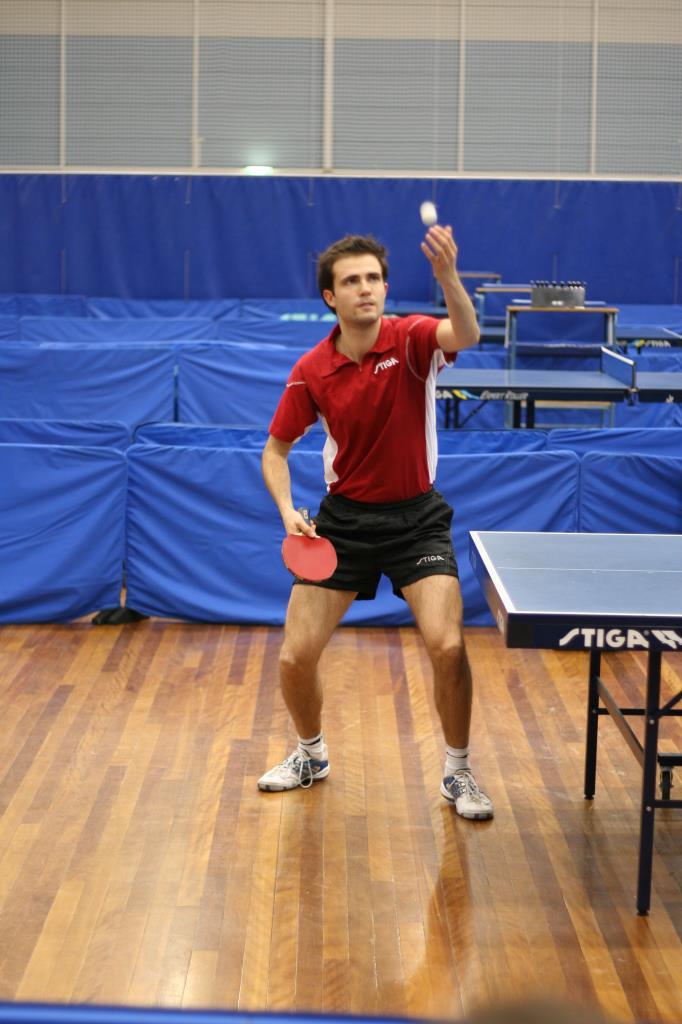 Beginner's Guide to Serving in Table Tennis
Learn all about the serve in table tennis, with theoretical and practical tips and advice on how to improve your serve and troubleshoot any problems.
Advanced Guide To Serving
Explanation of why the serve is important, double bounce serves, long serves, ball placement, deception, follow up strokes, and practice.
Shakehand Serving Grips for Table Tennis / Ping-Pong
Want to improve your serving in table tennis? There are three basic shakehand grip variations to choose from when serving, all with different strengths and weaknesses. Find out which ping-pong grip is best for you.
How to Get More Spin on Your Table Tennis Serves
Do you want to get more spin on your table tennis serves? Greg explains how to get more spin when serving in ping-pong.
Learning To Serve in Table Tennis – Mastering a Ping-Pong Serve
Greg investigates exactly how long it takes to learn a new serve in table tennis.
Table Tennis Service Training – A Must to Improve and Succeed
Guest author Scott Houston writes about the importance of the serve in table tennis, and how to practice the serve properly.
The Forehand No Spin Serve
Table Tennis Basic Strokes – The Backhand Backspin Serve
Table Tennis Basic Strokes – The Backhand No Spin Serve
Table Tennis Basic Strokes – The Backhand Topspin Serve
Forehand Pendulum Backspin / Sidespin Serve
Forehand Pendulum Backspin / Sidespin Serve – Side View
Table Tennis/ Ping-Pong Basic Strokes – Forehand Pendulum Sidespin Serve
Table Tennis/ Ping-Pong Basic Strokes – Forehand Pendulum Sidespin Serve – Side
Table Tennis/ Ping-Pong – Forehand Pendulum Topspin/ Sidespin Serve
Table Tennis/ Ping-Pong Basic Strokes – Pendulum Topspin/Sidespin Serve – Side
Table Tennis/ Ping-Pong – Forehand Reverse Pendulum Backspin/ Sidespin Serve
Table Tennis/ Ping-Pong – FH Reverse Pendulum Backspin/ Sidespin Serve Side View
Table Tennis/ Ping-Pong – Forehand Reverse Pendulum Sidespin Serve
Table Tennis/ Ping-Pong – FH Reverse Pendulum Sidespin Serve Side View
Table Tennis/ Ping-Pong – Forehand Reverse Pendulum Topspin/Sidespin Serve
Table Tennis/ Ping-Pong – FH Reverse Pendulum Topspin/ Sidespin Serve Side View
The Backhand Backspin/Sidespin Serve – Table Tennis/ Ping-Pong Basic Strokes
The Backhand Backspin/Sidespin Serve – Side View
The Backhand Sidespin Serve – Table Tennis/ Ping-Pong Basic Strokes
The Backhand Sidespin Serve – Side View – Table Tennis/ Ping-Pong Basic Strokes
The Backhand Topspin/Sidespin Serve – Table Tennis/ Ping-Pong Basic Strokes
The Backhand Topspin/Sidespin Serve – Side View – Table Tennis/ Ping-Pong
Table Tennis / Ping-Pong Basic Strokes – FH Tomahawk Topspin/Sidespin Serve
Table Tennis/ Ping-Pong Basic Strokes – Tomahawk Topspin/Sidespin Serve – Side
Table Tennis / Ping-Pong Basic Strokes – FH Tomahawk Sidespin Serve
Table Tennis/ Ping-Pong Basic Strokes – Tomahawk Sidespin Serve – Side
Table Tennis / Ping-Pong Basic Strokes – FH Tomahawk Backspin/Sidespin Serve
Table Tennis/ Ping-Pong Basic Strokes – Tomahawk Backspin/Sidespin Serve – Side